Essay topics: the table below presents the number of children ever born to women aged 40-44 years in Australia for each year the information was collected since 1981.
Summarise the information by selecting and reporting the main features, and make comparison where relevant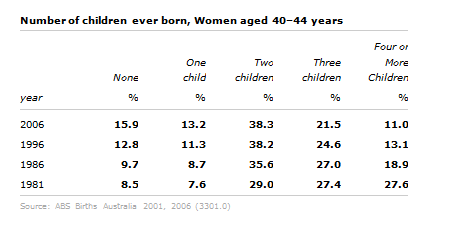 The table describes the percentage of women aged 40-44 years that ever born a children in Australia in 1981,1986,1996 and 2006.
The most striking feature is that mostly women aged 40-44 years had two children. It can be seen from the table , in every year the proportion of two children was the highest. Furthermore, before 2006, the trend of the percentage was always the same. Women preferred to had two children than had three children. The two-children families had above 29%, while the other was below that percentage. The lowest percentage for this era was the one-children families. Meanwhile, in 2006, the proportion of women who had given birth to four or more children was the lowest. It can be seen from the table, in 2006, the percentage of four-children families was one-third of the percentage of two-children families.
Overall, from 1981 to 2006, the proportion of none-children families, one-children families and two-children families was increase, while others had downward trend.

This essay topic by other users:
Extensive reading & listening: - reading & listening can help essay writing
Intensive IELTS reading & listening from Cambridge: