Essay topics: The chart below shows estimated world illiteracy rates by region and by gender for the year 2000.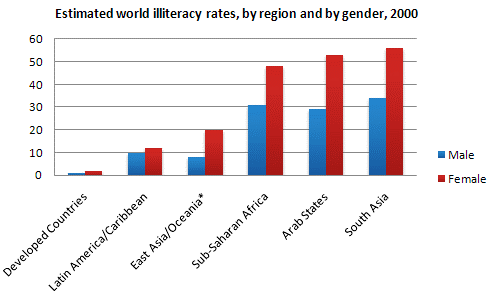 The bar graph elucidates the information about the estimated proportion of world illiterates by 6 different regions and by the gender in the year of 2000.
Overall, females are more illiterate than those of males. The people from developing countries such as South Asia, Arab states and Sub-Saharan Africa had the higher illiteracy rates than people from developed countries and Latin America, except East Asia/Oceania.
Almost half of illiterate citizens were from developing regions (Sub-Saharan Africa, South Asia and Arab states) compared to almost 0% illiteracy citizens in developed countries. In detail, the illiteracy rates had approximately of 40%, 41% and 45% for Sub-Saharan Africa, the Arab States and South Asia, with women were more illiterate than the illiterate men in all those regions. By contrast, the illiteracy rate in Latin America/Caribbean and East Asia/Oceania was only approximately 1%, 10% and approximately 14% respectively, for both male and females.
In the developed countries, the proportion of literacy among men and female was almost similar but the differences increased for Asia, Arab states and Africa. Among the given 6 countries, South Asian population were far more illiterate than any other country.

This essay topic by other users: