Essay topics: The graph below gives information about car ownership in Britain from 1971 to 2007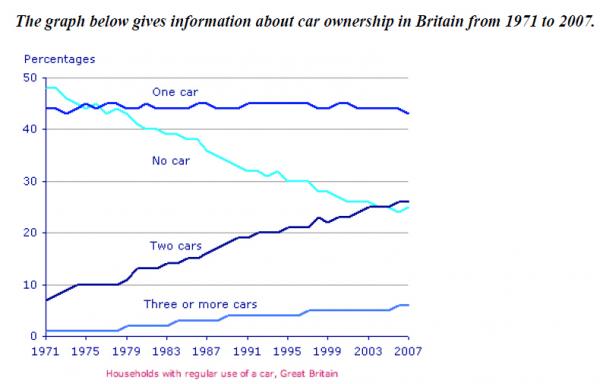 The statistical data about Britain's citizen who posses four-wheels vehicle for almost four decade from 1971 is depicted in the presented graph. At first glance, it is immediately apparent that there were two upward trends in the percentage of two or more car owners. While downward trend and stable changed were noted in the proportion of UK's citizen who did not have any car and only having one car consecutively.
In 1971, almost 50% of family in Britain did not have any cars, while the 44% of them only had one car. In contrast, it was uncommon in Britain's family to have two or more cars with only about 7% and 2% were recorded respectively into these categories.
After thirty eight years, family with one car was still the most common type until 2007. However, in the same year there were some changes in the data. The level of family with no car decreased dramatically to 25%. On the other hand the rate of family with two cars increased significantly to 26% and overtook the level of no car families. Similarly, the rate of family with three or more cars doubled to 5%.
Overall, the most significant fact to emerge from the given graph is that as time went by, more and more families in Britain possessed cars.

This essay topic by other users:
Extensive reading & listening: - reading & listening can help essay writing
Intensive IELTS reading & listening from Cambridge: