Essay topics: The graph below shows the number of complaints made about noise to Environmental Health authorities in the city of Newtown between 1980 and 1996.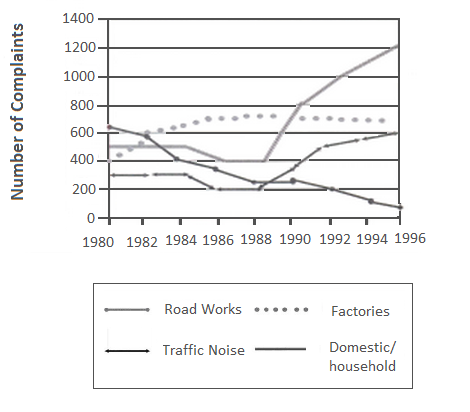 The line graph illustrates compare the amount of noise complaints to Environmental Health authorities made by people. This data has been collected during a period of 16 years in Newtown city.
As it can be observed from the graph, most of noises have showed the similar rates as those of in 80s except for the road works and domestic noises. The complaints are varying from 600 to 800 throughout the given periods except for the domestic noises and road works. Road work was the most complaint generated by Newton citizens in 1996 whereas the domestic noise was the most complaint at the beginning of the period to the least complaint by the end of the period.
The number of complaints for road works and traffic noise had a significant increase from 1988 to 1996. During the first four years, the noise complaint received at Environmental Health authorities remained fairly unchanged (300 complaints for traffic noise, 500 complaints for road works). There was a slight decrease in the noise of complaints in 1986 for both. From 1988, there was a significant increase in the number of complaints in road works and traffic noise to reach at 800 and 500 complaints, respectively. Between 1990 and 1996, the number of complaint for the road work noise shot up dramatically to end at 1200, which figure is similar for the traffic noise of 600.
Most of citizens in Newtown city have made a complaint about the noise involves with the domestic household and factories at the beginning of the periods. The most complaint received in Environmental Health authorities were domestic noises of just over 600 complaints while the number of factory noise complaints was 400. The domestic household noises showed a steady decline to reach at around 150 complaints by the end of the projected period whereas the factories showed the upward parabola line made at 700 complaints.

This essay topic by other users:
Extensive reading & listening: - reading & listening can help essay writing
Intensive IELTS reading & listening from Cambridge: