Essay topics: The two graphs show the main sources of energy in the USA in the 1980s and the 1990s.Write a report for a university lecturer describing the changes which occurred.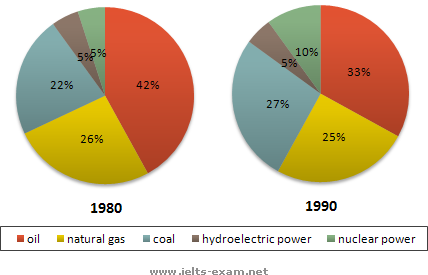 The two pie charts give information about five main sources of power in the United States of America in two year 1980 and 1990. It is possible to see from the graph that although the percentage of oil used decreased dramatically, oil captured the largest rate of total energy used in those years.
In 1980, the rate of oil occupied under half (42%), but it saw a significant fall to one third after a decade. An opposite can be seen for nuclear power, with data increasing by 100% from 5% to 10% for ten years.
Three remaining sources of power show a different trend where Hydroelectric power only cover a tiny minority (5%) of power supplies in 1980, and its proportion remained stable at the s ...
Note:
Only testbig VIP readers can access the full content of this essay.
Subscribe now as testbig VIP readers and get unlimited access to essays on the top list.

This essay topic by other users: