Essay topics: The bar chart below shows the number of students who chose certain university subjects in 2005. Summarise the information by selecting and reporting the main features, and makes comparisons where relevant.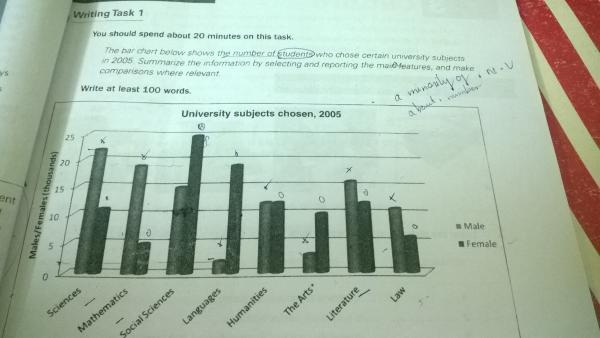 The given bar chart compares about how many students chose certain University subjects in 2005.
Overall, it can be seen that Social Sciences and Languages were the most popular courses for females, while Sciences and Mathematics remained the most preferred subjects among boys.
In detail, around 24,000 females chose social sciences, considerably higher than the males at about 14,000. Also, the total (24,000) was the peak level as compared to other subjects. Next came Languages with approximately 18,000 for girls vs 2,000 for boys, making it (2,000) the least total in the year. Sciences stood at just over 20,000 (boys), which was relatively twice as much as the females at around 10,000. As for Mathematics, females stood at 4,000, which was nowhere near as close as males with 18,000.
In contrast, the remaining subjects for both genders were not as popular as the discussed courses. Literature was chosen by 15,000 males, which was a bit larger than the counterparts at 12,000. The net figure for Humanities were equal at 12,000 each for both sexes. While females dominated the arts with 9,000 vs 3,000 (boys), males surpassed Law with 10,000 vs 6000 (girls) respectively.