Essay topics: The table below gives information about the five small companies in Britain that came top in a survey of staff conducted by a national newspaper to find out which companies are the best to work for.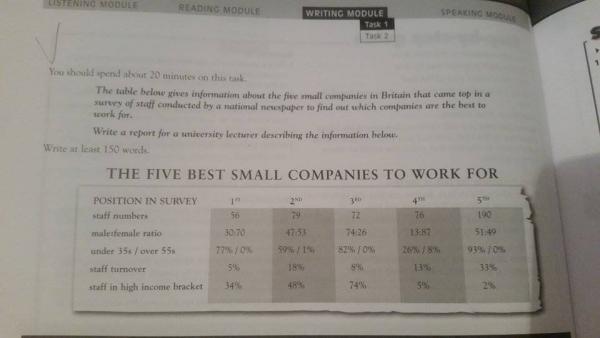 The table depicts about the dominant five small companies in Britain as per the survey of staff undertaken by a national newspaper in order to determine which company is the most appropriate to work for.
Overall, with the exception of 'male:female ratio' and 'staff in high income bracket', fifth company surpasses considerably its counterparts in the rest three positions.
In terms of staff numbers, with 190, the fifth company heads the list, while the first company stands at 56, which is about three times much less than 5th company. Other three companies have approximately 75 staffs. Turning to the genders ratio, 2nd and 5th companies have almost similar ratios (47:53 vs 51:49), but in the first and the fourth, women have outstripped men readily. By contrast, there remains the greatest number of males (74%) in the third company. Looking at the age of the staff, over 55s folks are nowhere near as close as under 35s.
In the case of staff turnover, the first four companies are all under 20%, whereas the fifth represents exactly a third (33%) of the total. The first three companies earn far higher (34%, 48% and 74%) than the 4th and 5th companies (5% and 2%) correspondingly regarding the 'staff in high income bracket'.