Essay topics:
The bar chart below shows the percentage of students who passed their high school competency exams, by subject and gender, during the period 2010-2011.
*includes French, German and Spanish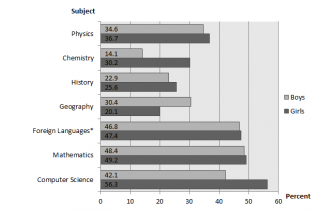 The bar chart compares the proportions of male and female students who passed seven different subjects in their high school competency exams from 2010 to 2011.
It is evident from the chart that both genders did well on computer science, mathematics and foreign languages (including French, German and Spanish). Another striking feature is that generally, girls performed better than boys did over the period under study.
In detail, female students did best in computer science, with 56.3% girls passing the exams, compared to 42.1% of boys. The difference between the two genders was insignific...

***
The full content of this essay is available to
VIP readers
Subscribe as testbig VIP readers and get unlimited access to essays on the top list.

Comments
Attribute Value Ideal
Score: 8.0 out of 9
Category: Excellent Excellent
No. of Grammatical Errors: 0 2
No. of Spelling Errors: 0 2
No. of Sentences: 9 10
No. of Words: 172 200
No. of Characters: 852 1000
No. of Different Words: 107 100
Fourth Root of Number of Words: 3.621 4.0
Average Word Length: 4.953 4.6
Word Length SD: 2.512 2.4
No. of Words greater than 5 chars: 62 60
No. of Words greater than 6 chars: 46 50
No. of Words greater than 7 chars: 29 40
No. of Words greater than 8 chars: 17 20
Use of Passive Voice (%): 0 0
Avg. Sentence Length: 19.111 21.0
Sentence Length SD: 5.343 7.5
Use of Discourse Markers (%): 0.333 0.12
Sentence-Text Coherence: 0.382 0.35
Sentence-Para Coherence: 0.659 0.50
Sentence-Sentence Coherence: 0.039 0.07
Number of Paragraphs: 4 4