Essay topics: The charts below show the proportions of British students at one university in English who were able to speak other languages in addition to English, in 200 and 2010.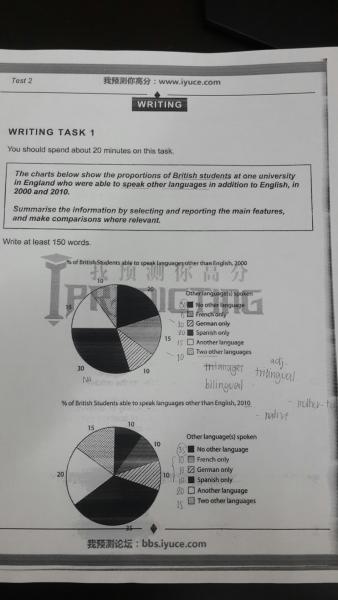 Given are the pie charts illustrating the percentages of British students knowing other languages apart from English in 2000 and 2010.
Overall, there was an increase in percentage of students who speak only English, while the percentage decreased significantly in the Spanish speakers group.
To begin with, in 2000, 30% of British students in one university were able to speak only their mother tongue, followed by students being able to speak Spanish with 20%. There were similar numbers in the figures of French only and another language with 15 percent. Similarly, 10% proportions were taken in the German only aspect and the two other languages aspect.
Despite the high percentage of respondents who were speaking Spanish in 2000, there was a drop of 10% in 2010, changing the Spanish only figure to be 10%, which was having an identical number with the German only figure and the French only figure. Conversely, there are a rise of 15% in the Another language figure and the percentage of trilingual group in 2010.

This essay topic by other users:
Extensive reading & listening: - reading & listening can help essay writing
Intensive IELTS reading & listening from Cambridge: