Essay topics:
The graph below gives information about international tourist arrivals in different parts of the world.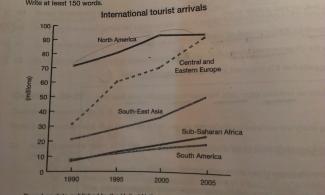 The line graph compares the number of foreign visitors to five areas in the world between 1990 and 2005. Overall, all the regions experienced a period of growth but at different paces and the gap between the two most popular parts, namely North America and Central and Eastern Europe, had narrowed significantly by 2005.
In detail, just over 70 million foreign travellers visited North America in 1990, making this place rank first in terms of international tourist arrivals. This number then rose steadily to 90 million at which it leveled off until 2005. As for Central and Eastern Europe, stand...

***
The full content of this essay is available to
VIP readers
Subscribe as testbig VIP readers and get unlimited access to essays on the top list.

Comments
Attribute Value Ideal
Score: 8.0 out of 9
Category: Excellent Excellent
No. of Grammatical Errors: 0 2
No. of Spelling Errors: 0 2
No. of Sentences: 9 10
No. of Words: 211 200
No. of Characters: 1044 1000
No. of Different Words: 128 100
Fourth Root of Number of Words: 3.811 4.0
Average Word Length: 4.948 4.6
Word Length SD: 2.652 2.4
No. of Words greater than 5 chars: 82 60
No. of Words greater than 6 chars: 62 50
No. of Words greater than 7 chars: 29 40
No. of Words greater than 8 chars: 15 20
Use of Passive Voice (%): 0 0
Avg. Sentence Length: 23.444 21.0
Sentence Length SD: 5.737 7.5
Use of Discourse Markers (%): 0.778 0.12
Sentence-Text Coherence: 0.431 0.35
Sentence-Para Coherence: 0.619 0.50
Sentence-Sentence Coherence: 0.08 0.07
Number of Paragraphs: 3 4