Essay topics: You should spend about 20 minutes on this task.
The chart below shows the number of men and women in further education in Britain in three periods and whether they were studying full-time or part-time.
Summarise the information by selecting and reporting the main features, and make comparisons where relevant.
Write at least 150 words.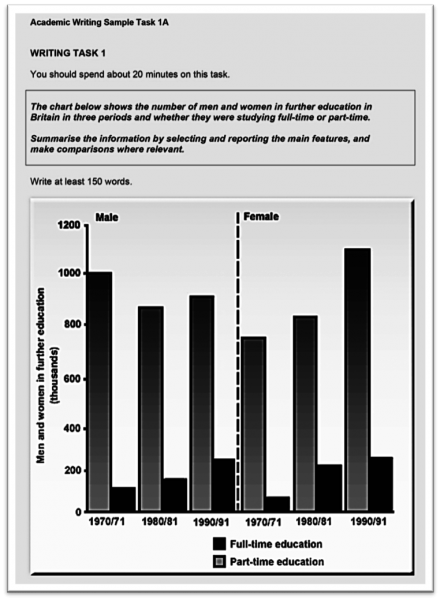 The bar charts provide the information about number of men and women in tertiary education in Britain in three different periods from 1970/71 to 1990/91 and also show the data pertaining to full time and part time enrolment for further study. Overall, it can be observed that the number of men and women opting for full time study gradually increased in the given period whereas the choice of women in part time education was seen gradually increasing in contrast to the choice of men which did not follow any particular discernible pattern.
During the period 1970/71, men outnumbered women in part-time education (1,000,000 men versus about 700,000 women). By the time of 1990/91, this trend was reversed. In 1990/91, the number of women participating in part-time study was significantly higher than men (1,100,000 women versus 900,000 men). The selection of part-time education by women went up steadily in all the periods, i.e. in 1970/71, in 1980/81, and in 1990/91 (700,000, more than 850,000, and 1,100,000 consecutively).
With respect to full-time education among males, marginal increment in numbers could be seen after each decade. In case of female students, the rate of rise in number of full-time students was much more striking in 1980/81, and 1990/91 in comparison to 1970/71.

This essay topic by other users:
Extensive reading & listening: - reading & listening can help essay writing
Intensive IELTS reading & listening from Cambridge: