Essay topics: The bar chart below shows the results of a survey conducted by a personnel department at a major company. The survey was carried out on two groups of workers: those aged from 18-30 and those aged 45-60, and shows factors affecting their work performance.
Write a report for a university lecturer describing the information shown below.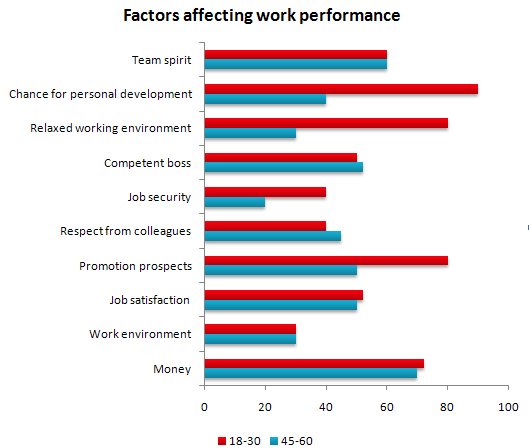 This report is purposed to explain a diagram illustrating factors that affect on the performance of two groups of worker; those whose ages from 18 and 30 and 45 to 60.
There are four aspects that workers of the first group (aged 18-30) consider most affecting their performance; chance to develop personally (90%), relaxed working environment (80%), prospects of promotion (80%), and salary (70%); which is the most important aspect for the second group (aged 45-60). 60 % of the two groups rated team spirit as one of considerable aspect. Competent boss and job satisfaction were elected by about 50% of the groups. Other aspects, including job security, respect from colleagues, and work environment were below 50% of the votes.
To sum up, people of group 1 regarded career development as the most affecting aspect of their work achievement yet work environment as a non significant factor, while another group's members thought that money was more essential and were less worried by job security.

This essay topic by other users:
Extensive reading & listening: - reading & listening can help essay writing
Intensive IELTS reading & listening from Cambridge: