Essay topics:
The graph below gives information from Annual Energy Outlook 2008 about consumption of energy in the USA since 1980 with projection until 2030.
Summarise the information by selecting and reporting the main features, and make comparisons where relevant.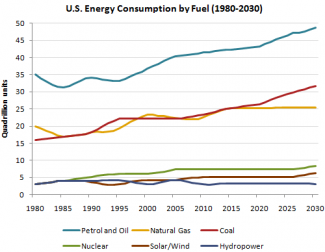 The graph shows energy consumption by six different variety of fuels in USA from 1980 and is extended up to 2030. Overall, petrol and oil are the main sources of energy followed by natural gas and coal, whereas, nuclear, solar and hydro are the least energy provider.
In 1980, 35qu of energy was derived from petrol and oil, which is almost double than the next two energy producer, natural gas at 20qu and coal at 15qu. Apart from some fluctuation in the beginning, petrol and oil experienced a significant increase in their energy production and is expected to finish the period at 49qu energy production. Natural gas and coal followed almost the same pattern. Though coal had some fluctuation until 2010 but from then it started to rise and expected to be labelled off and will finish the period at 25qu unit. However, natural gas rose gradually from 1980 and predicted to continue this trend up to 2030 and will exceed the level of 30qu of energy.
In sharp contrast to this, hydro was used to produce only 3qu of energy which is far lower than the above mentioned three types of energy sources and will remain the same throughout the time period. On the other hand, nuclear and solar, both of which was added after 1985 as variety of energy generator, showed a slight increase and will continue to rise slowly until 2030.
Comments
Attribute Value Ideal
Score: 7.5 out of 9
Category: Very Good Excellent
No. of Grammatical Errors: 0 2
No. of Spelling Errors: 0 2
No. of Sentences: 9 10
No. of Words: 234 200
No. of Characters: 1070 1000
No. of Different Words: 121 100
Fourth Root of Number of Words: 3.911 4.0
Average Word Length: 4.573 4.6
Word Length SD: 2.214 2.4
No. of Words greater than 5 chars: 72 60
No. of Words greater than 6 chars: 44 50
No. of Words greater than 7 chars: 27 40
No. of Words greater than 8 chars: 14 20
Use of Passive Voice (%): 0 0
Avg. Sentence Length: 26 21.0
Sentence Length SD: 7.165 7.5
Use of Discourse Markers (%): 0.556 0.12
Sentence-Text Coherence: 0.469 0.35
Sentence-Para Coherence: 0.629 0.50
Sentence-Sentence Coherence: 0.125 0.07
Number of Paragraphs: 3 4