Essay topics:
WRITING TASK 1
You should spend about 20 minutes on this task.
The bar graph below shows the numbers of employed persons by job type and
sex for Australia in the year 2003.
Summarise the information by selecting and reporting the main features, and make
comparisons where relevant.
You should write at least 150 words.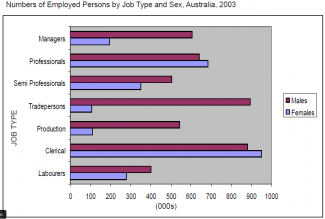 The bar graph illustrates the numbers of males and females employed in different types of jobs in Australia in the year 2003. It is clearly seen that the number of people employed in different types of jobs varies significantly between males and females.
For males, highest number of people was employed as tradepersons and clerks, with almost 900 000 people each job. There was 650 000 people employed as professionals, closely followed by managers (about 610 000 people). Semi professionals and production sectors had about 500 000 employees, and the least number of people words as labourers (...

***
The full content of this essay is available to
VIP readers
Subscribe as testbig VIP readers and get unlimited access to essays on the top list.
Comments
flaws:
Sentence Length SD: 3.197 7.5
Attribute Value Ideal
Score: 8.0 out of 9
Category: Excellent Excellent
No. of Grammatical Errors: 0 2
No. of Spelling Errors: 0 2
No. of Sentences: 9 10
No. of Words: 189 200
No. of Characters: 923 1000
No. of Different Words: 90 100
Fourth Root of Number of Words: 3.708 4.0
Average Word Length: 4.884 4.6
Word Length SD: 2.565 2.4
No. of Words greater than 5 chars: 66 60
No. of Words greater than 6 chars: 43 50
No. of Words greater than 7 chars: 30 40
No. of Words greater than 8 chars: 18 20
Use of Passive Voice (%): 0 0
Avg. Sentence Length: 21 21.0
Sentence Length SD: 3.197 7.5
Use of Discourse Markers (%): 0.222 0.12
Sentence-Text Coherence: 0.519 0.35
Sentence-Para Coherence: 0.762 0.50
Sentence-Sentence Coherence: 0.241 0.07
Number of Paragraphs: 4 4