Essay topics:
WRITING TASK 1
You should spend about 20 minutes on this task.
The bar chart below shows figures for average UK salaries, broken up by city.
Summarise the information by selecting and reporting the main features, and make comparisons where relevant.
You should write at least 150 words.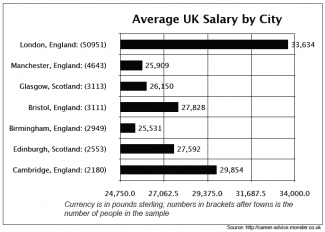 The bar chart illustrates the average UK salary, in 7 cities in England and Scotland. In England, there are London, Cambridge, Bristol, Manchester and Birmingham. In Scotland, there are Edinburgh and Glasgow. The figures are in pounds sterling.
From the graph, it is obvious that London has the highest salary, of 33,634 pounds, which is almost twice the amount of the second most earning city, Cambridge (29,854 pound). Bristol, Edinburgh, Manchester and Glasgow have an average salary of 26 500 pounds, while Birmingham has the lowest salary of 25 531 pound.
Taking a closer look on the chart, the number of people in the sample was also provided. It is shown that London has the highest sample size, of 50951 people. It has 25 times more sample size than Cambridge and Edinburgh which have 2180 and 2553 people respectively. Manchester has the second highest sample size of 4643, followed by an average of 3000 people in Glasgow, Bristol and Birmingham sample size.
Combining the average salary and number sample size together, London has the highest average salary and the biggest sample size. More details, such as job types are needed to deduce a conclusion as it is not mentioned if the sample size is skewed or not.
Comments
Attribute Value Ideal
Score: 7.0 out of 9
Category: Good Excellent
No. of Grammatical Errors: 0 2
No. of Spelling Errors: 0 2
No. of Sentences: 12 10
No. of Words: 207 200
No. of Characters: 984 1000
No. of Different Words: 98 100
Fourth Root of Number of Words: 3.793 4.0
Average Word Length: 4.754 4.6
Word Length SD: 2.341 2.4
No. of Words greater than 5 chars: 85 60
No. of Words greater than 6 chars: 45 50
No. of Words greater than 7 chars: 23 40
No. of Words greater than 8 chars: 17 20
Use of Passive Voice (%): 0 0
Avg. Sentence Length: 17.25 21.0
Sentence Length SD: 7.096 7.5
Use of Discourse Markers (%): 0.417 0.12
Sentence-Text Coherence: 0.409 0.35
Sentence-Para Coherence: 0.636 0.50
Sentence-Sentence Coherence: 0.145 0.07
Number of Paragraphs: 4 4