Essay topics: The line graph below shows the average daily maximum temperatures for Auckland and Christchurch, two cities in New Zealand, and London and Edinburgh, two cities in United Kingdom.
Summaries the information by selecting and reporting the main features, and make comparisons where relevant.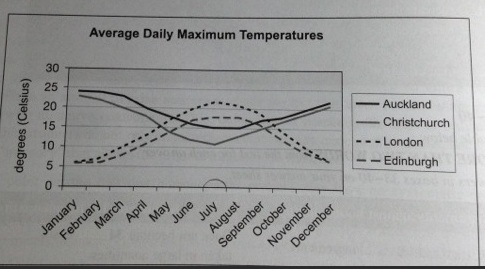 Given is the line graph illustrating how the regular maximum temperatures for four nations namely Auckland, Christchurch, London, Edinburgh changed.
Overall, the first impression from the graph is that there was an erratic trend in the climates of 4 cities. Another interesting point is that the weather in 2 countries in the UK was warmer than others in New Zealand throughout the whole year, except 5 months from June to October.
Looking at the detail, regarding Auckland and Christchurch, the average temperatures experienced a plunge to hit a trough at 15°C and 10°C respectively in July from the initial point of approximately 23°C in January. The last 5 months witnessed a steady recov ...
Note:
Only testbig VIP readers can access the full content of this essay.
Subscribe now as testbig VIP readers and get unlimited access to essays on the top list.

This essay topic by other users: