Essay topics: Comparison between the Japanese tourist numbers in between 1985 and 1995.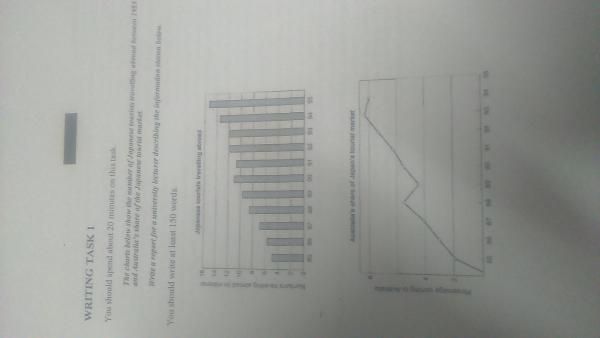 The former bar chart depicts the number of Japanese travel to the abroad, over a time course of 10 years, since 1985, measured in millions, whereas, the latter graph illustrates the share of Japanese tourists in Australia, over the same time period, measured in the percentage.
Over the period as a whole, the number of travellers to abroad from Japan significantly rose, over a time, and the same increasing trend was analysed in Australia - of Japanese tourists - as well.
In detail, the number of abroad travelled from Japan increase gradually with the same constant ratio, in first 5 years from 1985. Eventually, by observing an increase of approximately the half million tourists every year, the foreign Japanese tourist numbers ended at 10.5 Million in 1990 from 4.5 million in 1985. However, in the year 1992 and 1993, the numbers were same (12 million), before the slight fall in the year 1991. In the last 2 years, the foreign country visitors rose steeply with compared to the previous year ratio as approximately 1.8 million more people started the foreign trips, every year - which ended at roughly 15.1 million, in the year 1995.
On the other hand, the same increasing phenomena were analysed in the visit of Japanese to Australia, but on the smaller scale. Even, in this case, the abrupt growing trend was noticed up to the year 1988 (5%). In next years as well, the same increasing trend was found but minor fall occurred between the year 1988 in 1989. Interestingly, there was no Japanese visited Australia in the year 1995.