Essay topics:
The figures below compare the number of Internet users in several European nations as well as the prevalence of online shopping in these countries. Summarize the information by selecting and reporting the main features, and make comparisons where relevant.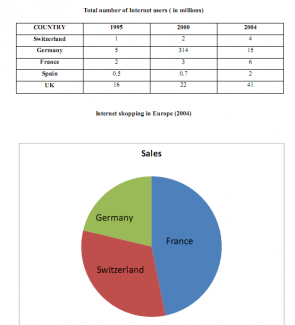 A glance at the figures provided reveals the comparison of Internet access in five European countries in 1995, 2000, 2004, as well as sales through the Internet in these countries. In general, there was an increase in total number of Internet users over the 10-year period, and it is evident that France was the country being on top of the European countries that had the biggest number of people using the Internet for shopping.
The UK came top with 16 million users in 1995 and increased steadily to reach 41 million in 2004. Growing exponentially from 5 million in 1995 to 314 million in 2000, ...

***
The full content of this essay is available to
VIP readers
Subscribe as testbig VIP readers and get unlimited access to essays on the top list.

Comments
It is on top list:
http://www.testbig.com/essay-categories/ielts
Attribute Value Ideal
Score: 8.0 out of 9
Category: Excellent Excellent
No. of Grammatical Errors: 0 2
No. of Spelling Errors: 0 2
No. of Sentences: 9 10
No. of Words: 206 200
No. of Characters: 968 1000
No. of Different Words: 109 100
Fourth Root of Number of Words: 3.788 4.0
Average Word Length: 4.699 4.6
Word Length SD: 2.486 2.4
No. of Words greater than 5 chars: 80 60
No. of Words greater than 6 chars: 58 50
No. of Words greater than 7 chars: 28 40
No. of Words greater than 8 chars: 11 20
Use of Passive Voice (%): 0 0
Avg. Sentence Length: 22.889 21.0
Sentence Length SD: 9.073 7.5
Use of Discourse Markers (%): 0.556 0.12
Sentence-Text Coherence: 0.449 0.35
Sentence-Para Coherence: 0.658 0.50
Sentence-Sentence Coherence: 0.142 0.07
Number of Paragraphs: 3 4