Essay topics: The given graph shows the consumption of fast food in the UK (per week) from 1970 to 1990.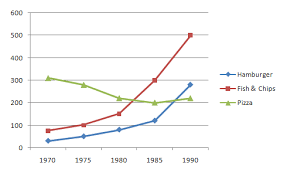 The line graphs compare the expenditure of fast food every weekly in the UK between 1970 and 1990.
It is clearly from the graph that the amount of Fish & Chips experienced the most change during this period. While the quantities of Hamburger and Fish & Chips both increased significantly, there was a slightly decrease in the figure for Pizza.
In 1970, the quantities of Pizza consumed were highest at more than 300 grams while the figure for Hamburger was by far lowest only at 30 grams. Meanwhile, about 80 grams for Fish & Chips were expenditured in the UK. The year 1980 saw a small decrease in the amount of Pizza consumed at around 200 grams, while the figure for Hamburger and Fish & Chips rose gradually to approximately 100 grams and 150 grams respectively.
In 1990, Fish & Chips weekly consumption went up dramatically to 500 grams and became the highest figure in the line graph while Hamburger's figure increased slightly to about 300 grams. At the same time, the amount of Pizza eaten remained stable at around 200 grams.

This essay topic by other users:
Extensive reading & listening: - reading & listening can help essay writing
Intensive IELTS reading & listening from Cambridge: