Essay topics:
IELTS Writing Task 1: 'customer service' pie charts
The charts below show the results of a questionnaire that asked visitors to the Parkway Hotel how they rated the hotel's customer service. The same questionnaire was given to 100 guests in the years 2005 and 2010.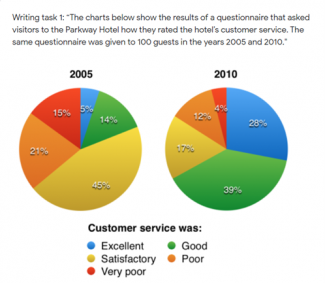 The pie chart compares the responses about satisfaction rate of Parkway Hotel guests in 2 years 2005 and 2010. It is indicated that same survey was taken out by 100 visitors both years.
Looking at the chart, it is readily apparent that the number of positive ratings saw a significant increase. It is compatible that the negative comments including "Satisfactory", "Poor" and "Very poor" plummeted after 5 years.
To begin with, both of the pleased responses together accounted for 19% and 67% in 2005 and 2010 correspondingly, which was an approximate treble. In detail, the "Excellent" proportion soared from 5% to 28%, followed by a steep rise by 25% of the "Good" counterpart.
With regard to unsatisfied options, "Satisfactory" revealed a notable plunge around two-third of the chart. The same feature is observed in "Poor" and "Very poor", where the rate both dropped gradually by 11% after 5 years.