Essay topics:
Show Test Info
Writing task 1
You should spend about 20 minutes on this task.
The table below shows the results of a survey to find out what members of a city sports club think about the club's activities, facilities and opening hours.
Summarise the information by selecting and reporting the main features, and make any comparisons where relevant.
You should write at least 150 words.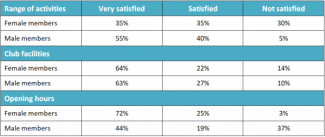 The given table represents the result of a survey conducted on both male and female members of the different sports club on the over all service of the clubs including range of activities, club facilities and opening hours. The outcome is categorised into three classes: Very satisfied, Satisfied and not satisfied.
About 95% of the male members feel satisfaction with the range of activites the clubs have offered. Although 30% of the female mambers are not satisfied with the said category, 35% of them think the activities are very satisfying.
35% of the male representatives feel dissatifaction with the opening hours. On the contrary, 72% women think the timings are very satifactory and fitting to their schedule.
Both male and female counterparts of the clubs are somewhat equally satisfied with the facilities (63% and 64% repectivley). But, 14% of the women and 10% of the opposite gender say the facilities are not very comforting.