Essay topics: IELTS writing task I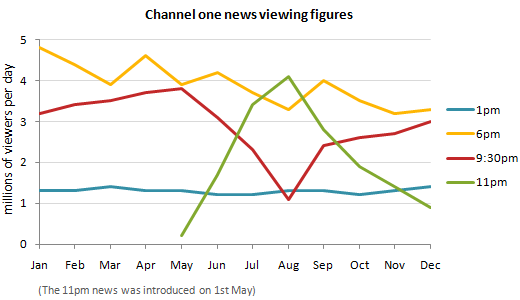 The graph illustrates date about the number of channel viewers regarding to time of News, over one year period.
Overall, what stands out from the graph is that both trends of news in 1pm and 6pm not so sharply changes, as trends of 9:30 pm and 11pm news, over the whole period. Another interesting point is that the number of viewers of the 9:30 pm and 1pm news at the end of the year, almost remained at the same spot as at the beginning.
Looking at the details, as regards the figure for the 1 pm News. The initial number of viewers in January was approximately 5 million, then the graph witnessed a fluctuation fall until November and at the end of the year the trend reached under 3.5 million. If we look at the figure for 6 pm, the trend gradually went up to around 4 million viewers between January and May, then sharply dropped to 1 million. After, the graph highlights a considerable rose, first sharply and then gradually and reached at the point of 3 million viewers per day. As for the number of channel's viewers at the 1 pm News, the trend remained stable at approximately 1.5 million mark, over the 12- month period.
By contrast, the trend of the last News in the graph began in May, then sharply rocked to 4 million in August and after surged four times and hit a trough at the December.

Extensive reading & listening: - reading & listening can help essay writing
Intensive IELTS reading & listening from Cambridge: