Essay topics: The charts below show the number of Japanese tourists travelling abroad between 1985 and 1995 and Australia's share of the Japanese tourist market. Summarise the information by selecting and reporting the main features, and make comparisons where relevant.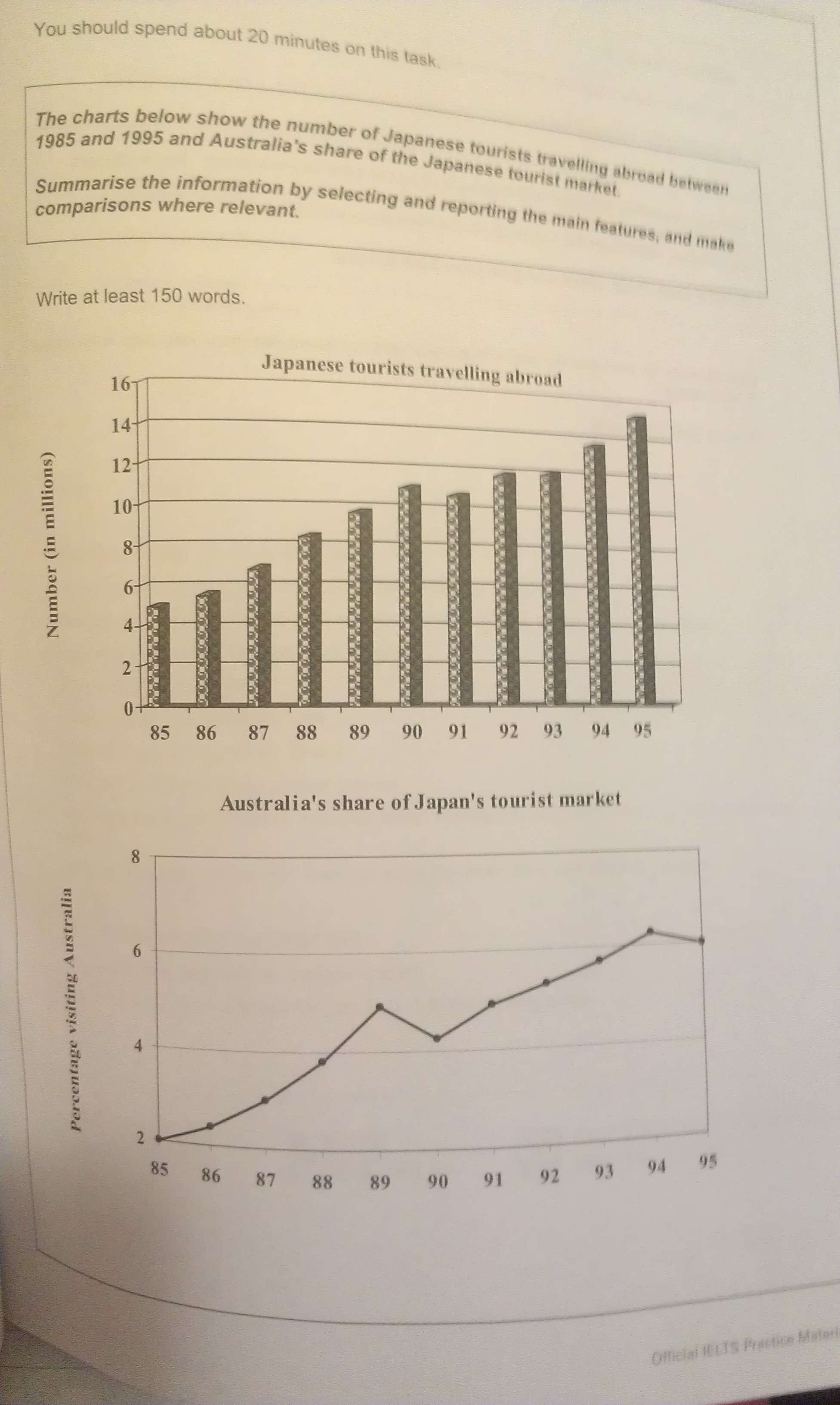 Given bar chart and the line graph enumerates the number of Japanese tourist visiting Australia and the shares available in tourist market in Australia.
Referred to the bar chart, there is a clear increase in visits over the 10 years. From 1985-1990, there is a steady increase up to 11 million visitors from 5 million travelling to Australia. However, in 1991 there is a slight drop in the number of Japanese visitors up to 10.5 million. But, from 1992, the number of tourist peaked up to 15 million till 1995.
Based on the line graph, from 1985 to 1989 there is a gradual increase in the percentage visiting Australia and the shares associated in the market. On the other hand, from 1989-1990 there is a steep decline in the percentage of tourist dropping up to 4.5 million. Nevertheless, from 1990 onwards the Japanese tourism increased in number reaching a percentage of 6.5 million. However, there is a minor decline in tourist up to 6 percent over the period of 1994-1995.
It is obvious from all the up to date records, the number of tourist travelling Australia had increased never before. In my opinion, this will continue for the upcoming years based on the statistic revealed by the tourist department of New South Wales.

This essay topic by other users:
Extensive reading & listening: - reading & listening can help essay writing
Intensive IELTS reading & listening from Cambridge: