Essay topics: The chart below give information about USA marriage and divorce rates between 1970 and 2000, and the marital status of adult Americans in two of the year.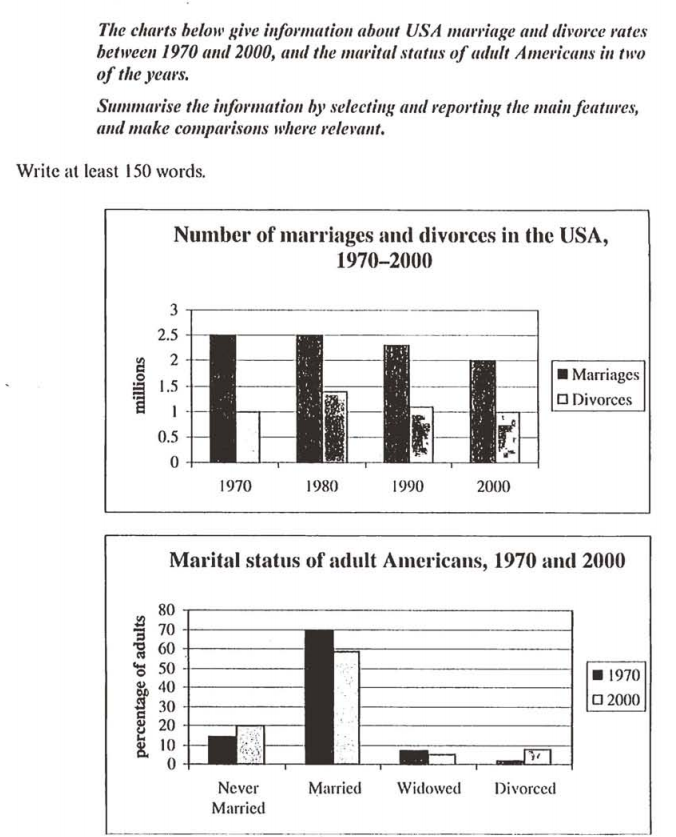 The bar charts show the number of marriage and divorce in the USA from 1970 to 2000, and the percentage of marital status of adult Americans in 1970 and 2000.
It is clear that the number of marriage in the USA dramatically decreased from the year shown. In 1970, marital status of young Americans decribed that married status was the highest proportion.
In 1970, the first figure showed that rate of marriage in the USA was 2.5 million people. On the other hand, the case of divorce was lower, at around 1 million people. Interestingly, in 1980, the number of marriage was steady, but divorce' rate significantly increased at around 1.3 million people. In 2000, proportion of marriage was still inclined at 2 million people, and the number of divorce faced the same value like in 1970.
The second figure represent that young Americans tended to get married and widowed, at about 70% and 8% respectivey in 1970. Young Americans decided to never married and made divorce, so those pecentage were larger than married and widowed in 2000.

This essay topic by other users:
More essays by this user:
Extensive reading & listening: - reading & listening can help essay writing
Intensive IELTS reading & listening from Cambridge: