Essay topics: The diagrams below show the stages and equipment used in the cement-making process, and how cement is used to produce concrete for building purposes.
Summarize the information by selecting and reporting the main features, and make comparisons where relevant.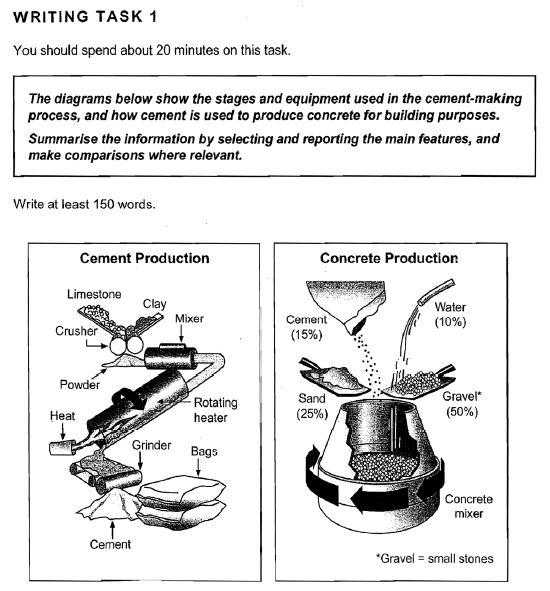 The flow-charts show the several steps and machinery utilized in the cement production process, and how this cement is used in the manufacturing of concrete for construction purposes.
In cement production, the first step is the passing of limestone and clay through the crusher. It is followed by the mixer, where the powder from the first step, gets mixed. The mixture then passes through the rotating heater, and then the grinder, where the products are grinded into cement. The cement is then packaged into bags, and prepared to be shipped.
The process of production of concrete involves mixing of cement with water, sand and gravel. These are not just mixed, but mixed in specific percentages to acquire the final product. Cement is 15percent, water 10percent, sand 25percent while gravel is 50percent. All these are put together in the concrete mixer, which results in the formation of concrete.
Both, cement and concrete, are vital for the construction business, and are responsible for the strength of the buildings they are used in.

This essay topic by other users:
Extensive reading & listening: - reading & listening can help essay writing
Intensive IELTS reading & listening from Cambridge: