Essay topics: The chart below shows the estimated percentage of car trips taken by drivers in 2005.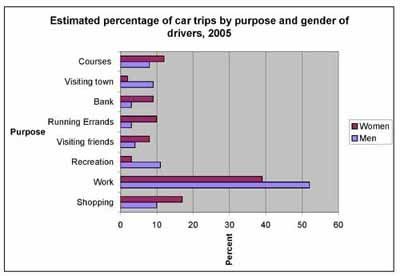 The chart indicates the estimation of trips by purpose was taken by female and male car- drivers in 2005. Overall, it is clear that there was a dominant trend in traveling to work than other purposes and that more women drove than their opposite sex.
In 2005, there was an estimated over 50% of men driving to work, which accounted for the highest proportion overall, compared to just 10% lower of women. Similarly, the same pattern repeated for visiting town and recreation car trips conducted by more men than women drivers, with nearly 10% as opposed to just 2% and over 10% compared to 3%, respectively.
In contrast, men had a tendency to drive for 4 remained purposes less than their counterpart. While nearly 10% of female drivers took trips for banking, running errands and visiting friends, men showed a much lower percentage of just around 3% in total. There was 18% and 11% of women drove to shop and take courses, with a comparison of 3% lower each to men.

This essay topic by other users: