Essay topics: The charts below give information about USA marriage and divorce rates between 1970-2000, and the marital status of adult Americans in two of the years.
Summarize the information by selecting and reporting the main features, and make comparison where relevant.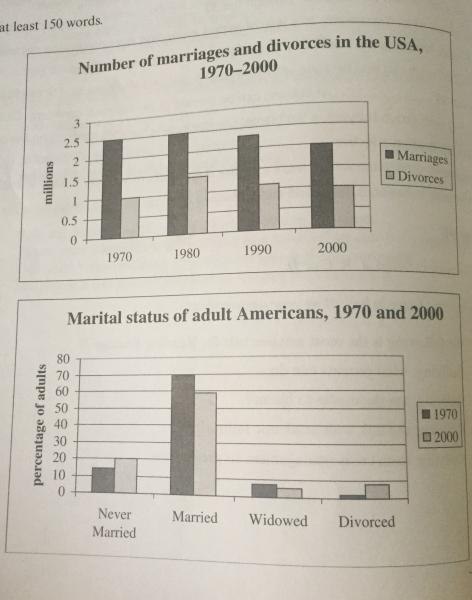 The first bar chart illustrates, frequency of marriages and divorces amongst US citizens in the last 30 years of the precious century. Whilst the second graph compares marital status of American population between the years 1970 and 2000. Overall, it is clear that marriage rate has declined whereas divorces have increased.
To begin with, marriage was a popular affair in 1970 about 2.5 million marriages reported that year. In contrast around 1 million divorce cases were filed in 1970. Through the time frame of next 10 years marriage frequency remained the same, however, divorce rate rose significantly reaching a peak of slightly less than 1.5 million in 1980. Both marriages and divorce rate declined at a steady rate during the next 20 years. Divorces rate falling back to the same level it started, moreover, marriages finished at 2 million in 2000.
On the other hand, 70% of the American adults were married in in 1970 and this percentage dropped down by 10% in 2000. Nevertheless, adults who were never married increased from 15% in 1970 to 20% in 2000. And divorcees also inclined from 2% to almost 10%.

This essay topic by other users:
Extensive reading & listening: - reading & listening can help essay writing
Intensive IELTS reading & listening from Cambridge: