Essay topics: The graph below shows the average time spent by four car manufactures to produce vehicles at their US factories.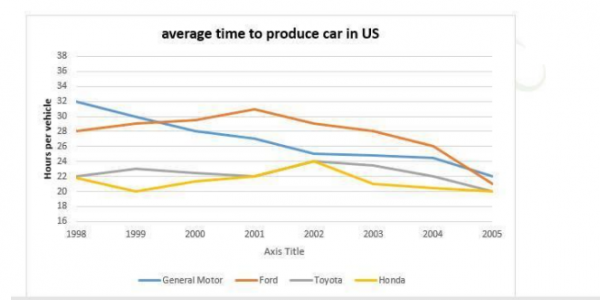 The line graph compares the avarage time to produce car of four manufactures in US from 1998 to 2005.
Overall, it is evident that the hours spent on producing vehicles of four factories decreased. Most of the time, producing cars in Ford factories took the largest amount of time while producing vehicles in Honda took the smallest one.
In 1998, the average hours to produce cars in General Motor factories were 32 hours, higher than that in Ford factories, which was only 28 hours. Whereas, producing cars in Honda an Toyota companies took the same amount of time, at exactly only 22 hours per car.
After 7 - year period, although there was a reduction in the hours to produce cars in General Moto factories, this figures were still highest, at 22 hours per car. The time to make vehicles in Ford factories decreased to only 21 hours per vehicle, slightly lower than that of General Moto factories, after peaked at 31 hours in 2001. In Honda and Toyota manufactures, after some fluctuations, the hours to produce vehicles fell down slightly to 20 hours per car in 2005.

This essay topic by other users: