Essay topics: The pie charts below give information on the ages of the populations of Oman and Spain in 2005 and projections for 2055.
Summarise the information by selecting and reporting the main features and make comparisons where relevant.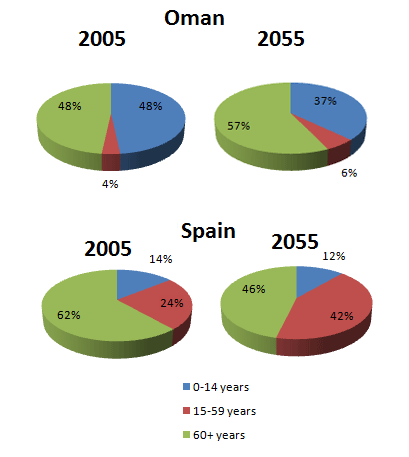 The pie charts compare the three different ages of the populations in Oman and Spain during 2005 and the anticipated figure for 2055.
Overall, it can be seen that 0-14 years and 15-59 years will have soared in their populations in both nations by 2055, whereas the same two countries will witness opposite trends when it comes to 60+ years in 2055.
In terms of Oman, in 2005, there were identical proportions for 0-14 years and 15-59 years with 48% each, compared to over 60 years at 4% only. Despite being close to half, 0-14 years are set to drop significantly to 37% in the end. There is a strong possibility that over 60 years will swell considerably to 57% in 2055, while 15-59 years are set to rise a little to 6% from 4%.
Turning to Spain, 60+ years stood at approximately three-fifths (62%) of the total, which was the highest figure in 2005. On the other hand, 15-59 years came next in the position at 24%, nearly twice as many as 0-14 years at 14%. Having achieved the greatest total in 2005, 15-59 years, however, will have shrunk sharply to 46% by the final term. Likewise, 0-14 years are also predicted to dip (14% to 12%) slightly by 2% in 2055. In contrary, 15-59 years will experience a dramatic growth to finish the period at 42% from 24%.

This essay topic by other users: