Essay topics: The table below gives information about student enrolment at Bristol University in 1928, 1958, and 2008.
Summarise the information by selecting and reporting the main features, and make comparisons where relevant.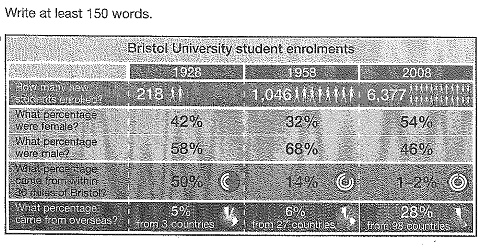 The table compares about how many students were enrolled at Bristol University in 1928, 1958 and 2008.
Overall, it can be seen that the total number of students surged year on year significantly, whereas the proportion of local students and males dropped.
In terms of net number of registered students, there was a sharp swell from 1928 (218), rocketing to 6337 in the end of the term. In contrast, males with almost three-fifths (58%) in 1928 witnessed a sharp shrink to 46% in 2008. While local students accounted exactly a half (50%), females stood at just over two-fifths (42%) in 1928. However, in the final term (2008), there was a considerable swell to 54% (females), the local students hit a trough of 1-2%, which was the least net.
Turning to overseas students, despite reaching close to a third (28%) in 2008, they remained at fairly lower totals at 5% and 6% in 1928 and 1958 respectively, as compared to others.

This essay topic by other users: