Essay topics: The table below gives information on households with a regular use of a car in Great Britain from
1971 to 2007.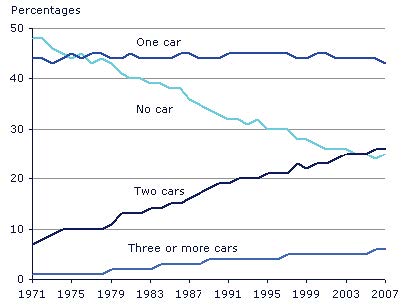 A glance at the table provided compares the number of cars which are used regularly in British households between 1971 and 2007.
Overall, it is clear that households in Britain that own one car to be regularly used had by far the highest percentage in most periods. Also, homes that did not use any car had steadily plunged as time went by.
Focusing on the year 1971, starting at almost 10% percent, homes that drove two cars rose steadily reaching up to about 25% in 2007. In contrast, households that did not drive a car showed an opposite trend, in which it initially started at a mere 50% percent in 1971 and dropping gradually to a low of roughly 25%.
Looking at three or more cars, they began at approximately 2% and soared up gradually to just over 5% by the end of the period in question. Conversely, at a negligible 45%, one car household regular drivers remained stagnant throughout the whole period.