Essay topics: task 1 the table below gives information on participation in various leisure activities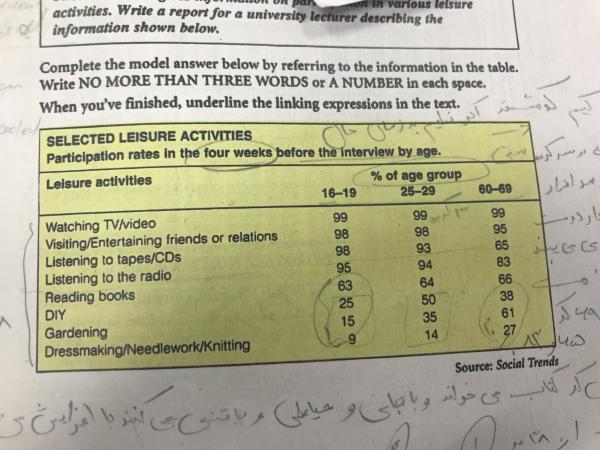 The given table depicts the percentages of people taking part in 8 different categories of leisure activities, in three selected age brackets. Overall, as is self_evidant, that figures for the most popular activities are fairly similar across the age groups. However, there are considerable differences when we look at minority interests.
Having examined the data, we can obviously realized that in three selected age groups, the proportion of people who spend time on recreation like watching TV or video, visiting acquaintances and listening to acoustic devices, have the highest popularity over 93 per cent, expect in oldest group that has a declining ratio to 65 and 83 per cent.
Besides, the rate of people, interested in reading books, do_it_ yourself, gardening and sewing climb by increasing age. this can be illustrated by comparing the 60-65 group with the 16-19 group. 27 per cent of the oldest people are interested in knitting and needlework, the youngest group, in contrast, have the lowest attending to sewing. Although the results for the 25-29 group in the cases cited above are quite different, this group does not obey any formulation.
In general, it can be perceived that most of the people are interested in things, that have few physical activities to do in their leisure time.

This essay topic by other users: