Essay topics: You should spend about 20 minutes on this task.
The graph below shows the pollution levels in London between 1600 and 2000.
Summarise the information by selecting and reporting the main features, and make comparisons where relevant.
Write at least 150 words.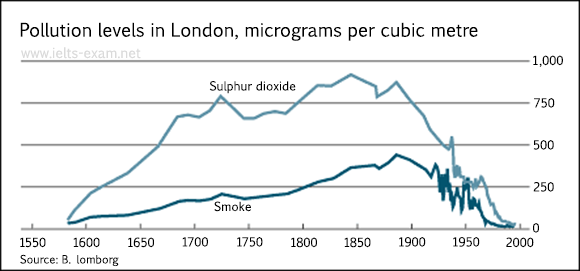 The line chart reports the pollution levels in London between the late 1500s and prior to 2000. Smoke and Sulphur dioxide (SO2) concentrations were measured in micrograms per cubic metre.
The pollution was the highest between 1700 and 1900, with the SO2 contributed the most compared to the smoke. However, for the last a century, the pollution rates gradually diminished to the similar level in the late 1500s.
Between the late 1500s and 1700s, the concentration of SO2 surged rapidly from almost zero to just over 750, while the smoke level was three times lower at the same period. Subsequently, the concentrations of both the SO2 and the smoke were fluctuated for nearly 200 years. At that period, while the SO2 level only increased slightly to around 900, the smoke concentration dramatically rose to almost 500. Finally, from the 1900s until just before 2000, the level of the SO2 and the smoke fell down significantly to almost zero.

This essay topic by other users: