Essay topics: The chart below shows information about changes in average house prices in five different cities between 1990 and 2000 comparet with the average house prices in 1989.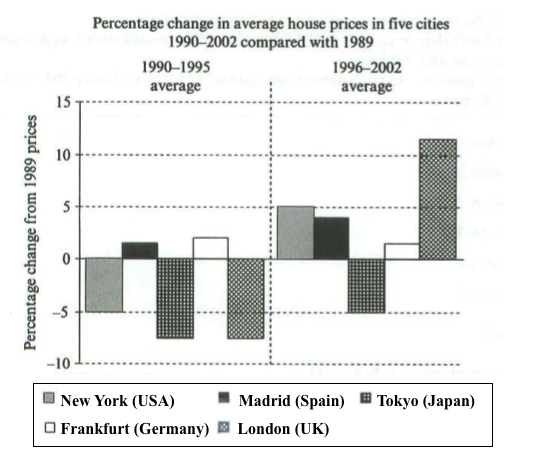 The figure below gives us information about percentage changes in house market in New York, Madrid, Tokyo, Frankfurt, London between 1990 and 2000 compared with 1989.
It is clearly seen that in the first 6 years, average house prices in New York showed a decrease with 5% compared with 1989 which was followed by a dramatic increase 5% in the second period. In both periods, percentage of Madrid house market went up slightly with 2% and 4% respectively.
Recording to the chart, average house prices in Tokyo and London showed the same percentage change between (1990 and 2005) decrease with decreasing 7% between 1990 and 1995 compared with 1989. But Tokyo house market increased 2% between 1996 and 2000 compared to the previous period. However, average house prices in London rose considerably to 12%. Lastly, changes in house prices in Frankfurt remained around stable in both periods with approximately 2% and 1%, respectively.
To sum it up, average house prices in London had showed a dramatic increase in the given 13 years period but Tokyo and Frankfurt house market had changed slightly in the same period.

Extensive reading & listening: - reading & listening can help essay writing
Intensive IELTS reading & listening from Cambridge: