Essay topics:
Age population in Yemen and Italy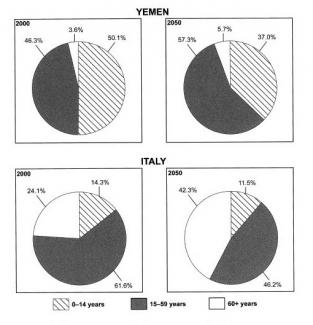 The pie graphs compare and contrast the age composition of people in two distinct nations in 2000 and projections for 2050.
First looking at the two pie charts on the left, it can be clearly seen that people aged 15 - 59 years old compose the greatest share in Italy, while people aged 0 - 14 years old in Yemen respectively. On the other hand, "0 - 14 years" make up the least proportion in Italy, while "60+ years" in Yemen. The former displays 14.3% as opposed to 3.6% for the latter. In comparison with 3.6% in Yemen, the share of which in Italy is approximately six folds larger, which is 24.1%.
Moving on to the pie graphs on the right, the share of "15 - 59 years" in both countries are expected to be the largest. The former nation is 57.3% while the latter nation is 46.2% respectively. At the same time, the "60+ years" in Yemen is projected to remain in the lowest proportion, which is 5.7%. On the contrary, which of Italy is anticipated to grow to 42.3%. Compared the population composition of Italy in 2000 and projections for 2050, the greatest variation is expected to be seen in "60+ years" with approximately two times larger in the projections for 2050 compared to which in 2000, which is 42.3% and 24.1% respectively.

Comments
flaws:
Need more sentence varieties.
Read a sample:
http://www.testbig.com/ielts-essays/charts-below-give-information-ages-…
Attribute Value Ideal
Score: 6.5 out of 9
Category: Good Excellent
No. of Grammatical Errors: 2 2
No. of Spelling Errors: 0 2
No. of Sentences: 10 10
No. of Words: 221 200
No. of Characters: 964 1000
No. of Different Words: 97 100
Fourth Root of Number of Words: 3.856 4.0
Average Word Length: 4.362 4.6
Word Length SD: 2.576 2.4
No. of Words greater than 5 chars: 52 60
No. of Words greater than 6 chars: 35 50
No. of Words greater than 7 chars: 28 40
No. of Words greater than 8 chars: 18 20
Use of Passive Voice (%): 0 0
Avg. Sentence Length: 22.1 21.0
Sentence Length SD: 10.406 7.5
Use of Discourse Markers (%): 0.4 0.12
Sentence-Text Coherence: 0.414 0.35
Sentence-Para Coherence: 0.563 0.50
Sentence-Sentence Coherence: 0.086 0.07
Number of Paragraphs: 3 4