Essay topics: The chart below shows the amount of time that 10 to 15-year-olds spend chatting on the Internet and playing on games consoles on an average school day in the UK.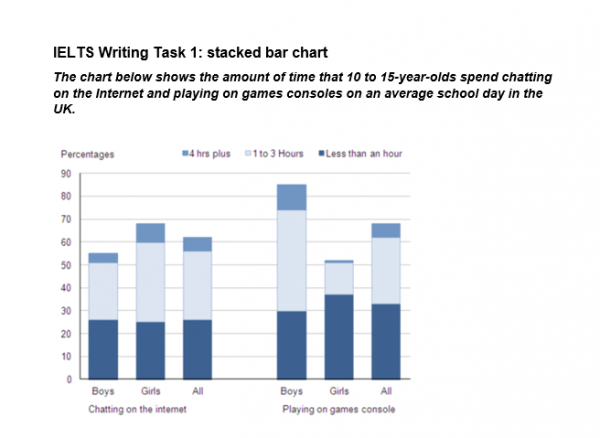 The chart compares the time spent on chatting online and playing on game consoles by younger people who aged betwenn 10-15 in the UK.
In general, playing on games consoles for both boys and girls is the most popular activities than chatting on the internet (68% as against 62%).
In terms of chat online, girls make up a higher percentage of spending time on chating online than Boys with around 68% and 54% respectively. The proportion of girls used 4 hours or plus in chatting on the internet was 8% which was twice as high as that of boys. However, the pattern is the complete reverse when it comes to Playing on computer game. 85% of boys spent on playing games console while girls accounted for nearly 52% on that. The rate of boys used 1-3 hours was 34% as opposed on this, girls only comprised 13% in playing on game console. With approximate 10% of boys spent on 4 hours or plus in playing on games console was a much higher than that of girls (10% in comparision with 2%).

This essay topic by other users:
Extensive reading & listening: - reading & listening can help essay writing
Intensive IELTS reading & listening from Cambridge: