Essay topics: The table shows forested land in millions of hectares in different parts of the world.
Summarise the information by selecting and reporting the main features, and make comparisons where relevant.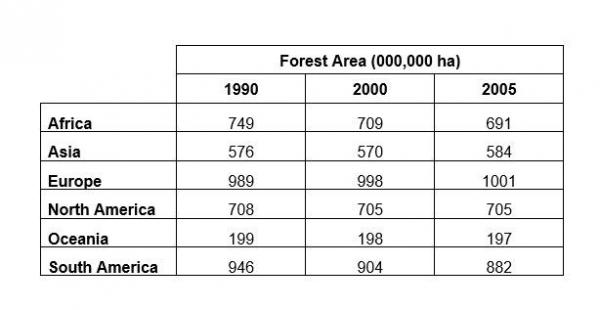 The chart illustrates how many hectares of forested land in 6 separate continents changed over the course of 15 years starting 1990. In general, over the period, Europe owned the largest forest area while the Oceania had the smallest forest areas.
It is clear from the table that only Asia and Europe increased their forest cover. In 1990, Europe started with 989 million hectares of forest. Afterwards, the figure increased slightly by 12 million hectares in 2005. Similarly, in Asia, forest covered 576 million hectares at the beginning of the period. Then, there was a marginal rise in the number of hectares land covered by forest in Asia from 576 to 584 million in 2005.
In contrast, Africa, North America, Oceania, South America witnessed a downward trend over 15 years. Regarding Africa and South America, these figures accounted for 749 and 946 hectares relatively. Subsequently, these two continents forested land decreased dramatically, Africa fell by 58 million hectares, South America fell by 64 million hectares. Meanwhile, the forest land in North America and Oceania dropped gradually by about 2-3 million hectares.

This essay topic by other users: