Essay topics:
The chart below shows the total number of Olympic medals won by twelve different countries.
Summarize the information by selecting and reporting the main features, and make comparisons where relevant.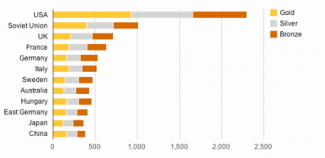 Given are figures providing a comparison of the number of Olympic medals acquired by athletes in twelve different countries. It is evident from the information provided that gold medals make up the largest portion among gold, silver and bronze medallists.
The most outstanding feature of the graph is that the USA has the highest number of total medals as well as of each category, with practically 2300 in total and approximately 500 in separate categories. It is ahead of the figure for the Soviet Union, the country comes next, by a wide margin, with about 1000 decorations in total. When it co...

***
The full content of this essay is available to
VIP readers
Subscribe as testbig VIP readers and get unlimited access to essays on the top list.

Comments
Attribute Value Ideal
Score: 7.5 out of 9
Category: Very Good Excellent
No. of Grammatical Errors: 0 2
No. of Spelling Errors: 0 2
No. of Sentences: 6 10
No. of Words: 156 200
No. of Characters: 719 1000
No. of Different Words: 93 100
Fourth Root of Number of Words: 3.534 4.0
Average Word Length: 4.609 4.6
Word Length SD: 2.448 2.4
No. of Words greater than 5 chars: 49 60
No. of Words greater than 6 chars: 29 50
No. of Words greater than 7 chars: 19 40
No. of Words greater than 8 chars: 13 20
Use of Passive Voice (%): 0 0
Avg. Sentence Length: 26 21.0
Sentence Length SD: 5.416 7.5
Use of Discourse Markers (%): 0.333 0.12
Sentence-Text Coherence: 0.473 0.35
Sentence-Para Coherence: 0.718 0.50
Sentence-Sentence Coherence: 0.075 0.07
Number of Paragraphs: 3 4