Essay topics: Chorleywood is a village near London whose population has increased steadily since the middle of the nineteenth century. The map below shows the development of the village.
Write a report for a university lecturer describing the development of the village.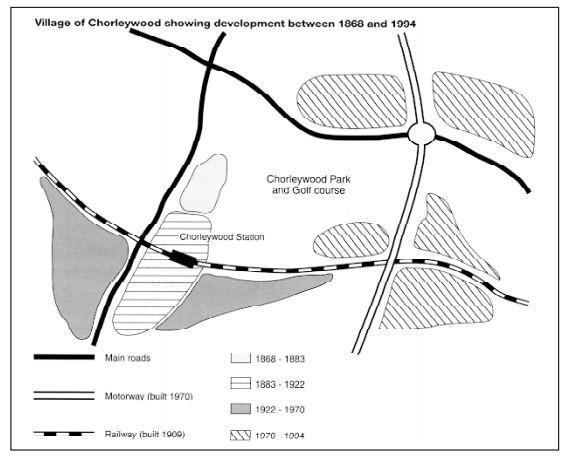 The map illustrates the expansion of Chorleywood, a village close to London, with several year intervals between 1868 and 1999.
According to the data given by the map, it can be clearly seen that there was a gradual increase in infrastructure projects. Until the middle of the 19th century, there was only a remote area near to the intersection of the two main roads to London, but the further developments transform this particular region into a human habitat.
As it can be observed in the graph, the smallest site even build on the map was recorded between 1868 and 1883 and it is near one of the main roads. After 40 years from the birth of the village, there were considerable developments such as the construction of the rail station(1909) at the same time with the inauguration of a new place. The following years, there were added two areas on both sides of the main road crossing the map vertically. Finally, the village was extended eastwards, so there was a possibility to establish an accessible motorway (1970) which crosses both the old road winding horizontally and the railway.
Another thing to mention is that the park and golf course are placed in the center of the village and they bordered by the two roads, motorway, railway.

This essay topic by other users: