Essay topics:
The three pie charts below show the changes in annual spending by a particular UK school in 1981, 1991 and 2001.
Summarise the information by selecting and reporting the main features, and make comparisons where relevant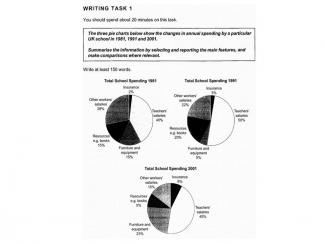 The pie charts describe the differences between annual spending in a particular school. It is showed data from three distinct years: 1981, 1991 and finally 2001. As an overall trend it could be observed that in all the cited years the item that consumed more money was teachers´ salaries.
In 1981 the school spent lots of money (40 %) with educators followed by other workers´ salaries (28 %). The amount used to obtain resources and furniture/ equipament was the same for each one (15 %) and the total spent with insurance was only 2 %. In 1991 the money percentage paid to teachers went up slightly (50 %) in comparison with the year 1981. Otherwise the amount spent with resources increased moderately. In the more recent year (2001) is observed that the school decreased the total money used to pay the teachers (45 %) in comparison with 1991. In addition the spent with other staffs and resources were reduced significantly, respectively 15 % and 9 %.
To sum up it is clearly noted by the charts that the main money spent in the school is with teachers´ salaries in all the three years and the other items showed suffered an interesting fluctuation among the year.

Comments
Sentence: The amount used to obtain resources and furniture/ equipament was the same for each one 15 and the total spent with insurance was only 2 .
Error: equipament Suggestion: equipment
Attribute Value Ideal
Score: 7.0 out of 9
Category: Good Excellent
No. of Grammatical Errors: 0 2
No. of Spelling Errors: 1 2
No. of Sentences: 10 10
No. of Words: 197 200
No. of Characters: 928 1000
No. of Different Words: 104 100
Fourth Root of Number of Words: 3.746 4.0
Average Word Length: 4.711 4.6
Word Length SD: 2.519 2.4
No. of Words greater than 5 chars: 57 60
No. of Words greater than 6 chars: 43 50
No. of Words greater than 7 chars: 37 40
No. of Words greater than 8 chars: 20 20
Use of Passive Voice (%): 0 0
Avg. Sentence Length: 19.7 21.0
Sentence Length SD: 8.307 7.5
Use of Discourse Markers (%): 0.3 0.12
Sentence-Text Coherence: 0.4 0.35
Sentence-Para Coherence: 0.565 0.50
Sentence-Sentence Coherence: 0.026 0.07
Number of Paragraphs: 3 4