Essay topics:
The bar chart shows the percntages of pupils who passed their school leaving exams , by subject and sex , during the period 2003-2004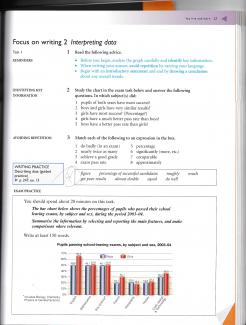 The bar chart given illustrates the rates of pupils who were successful in the school leaving exams, by subject and gender during the semester of 2003-2004. As can be seen from the graph, both boys and girls performed drastically in English while the toughest subject belonged to Geography.
To specify, the percentage of girls who passed the exam accounted for a proportion of 65.2%, which was much higher than the figures of that for boys, at 49.6%. Moreover, it is also noticeable that there was only approximately 30% of female pupils who performed well enough to pass the French exam while the statistic for male was quite low, at 19.1%.
However, the percentage of both genders was almost identical when it came to other subjects such as : Mathermatics , Any sciences , History and Geography. To be specific, Maths and Natural sciences witnessed the equality between two sexes, with slightly more or less than 50% of all contestants. It is also remarkable that pupils who passed Geography exam amounted to a very modest proportion of around 20% for both genders.
In general, It is obvious that Girls seemed to be more proficent at the school leaving exam than boys.

Comments
Attribute Value Ideal
Score: 8.5 out of 9
Category: Excellent Excellent
No. of Grammatical Errors: 0 2
No. of Spelling Errors: 0 2
No. of Sentences: 8 10
No. of Words: 197 200
No. of Characters: 942 1000
No. of Different Words: 121 100
Fourth Root of Number of Words: 3.746 4.0
Average Word Length: 4.782 4.6
Word Length SD: 2.572 2.4
No. of Words greater than 5 chars: 66 60
No. of Words greater than 6 chars: 49 50
No. of Words greater than 7 chars: 34 40
No. of Words greater than 8 chars: 23 20
Use of Passive Voice (%): 0 0
Avg. Sentence Length: 24.625 21.0
Sentence Length SD: 4.211 7.5
Use of Discourse Markers (%): 0.75 0.12
Sentence-Text Coherence: 0.417 0.35
Sentence-Para Coherence: 0.708 0.50
Sentence-Sentence Coherence: 0.037 0.07
Number of Paragraphs: 4 4