Essay topics: The chart below shows the percentage of Australian men and women in different age groups who did regular physical activity in 2010.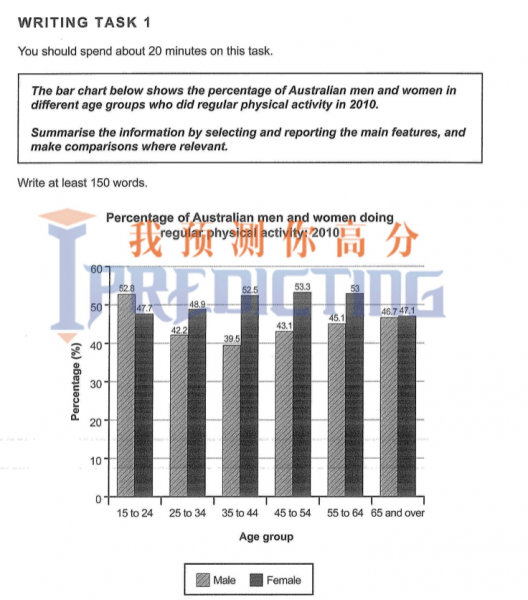 The given bar chart illustrates the proportion of Australian men and women who performed routine exercises in various age groups in 2010.
Overall, it can be seen that although females surpassed their counterparts in 25 and over age groups, males outstripped females in 15 to 24 age groups.
As regards 45 to 54 age groups, females stood at 53.3%, considerably higher than males at 43.1%. And it is interesting to note that the figure (53.3%) of girls was the highest percentage, as opposed to the remaining age groups. Next came 55 to 64 groups, with girls at 53%, almost as equal to the topmost total, whereas males began at 43.1%. Third on the rank was 35 to 44 groups with females at still over half at 52.5%, while males at 39.5%, making it the least sum of all age groups. Females saw just ahead of boys at 47.1% vs 46.7% for 65 and over. Bottom of the groups were 25 to 34, males (42.2%), who were not nearly as active as females (48.9%).
In contrast, males for 15 to 24 groups experienced 52.8%, which remained the third biggest amount, and females witnessed 47.7%.

This essay topic by other users: