Essay topics: The pie charts show the main reasons for migration to and from the UK in 2007. Summarise the information by selecting and reporting the main features and make comparisons where relevant. Write at least 150 words.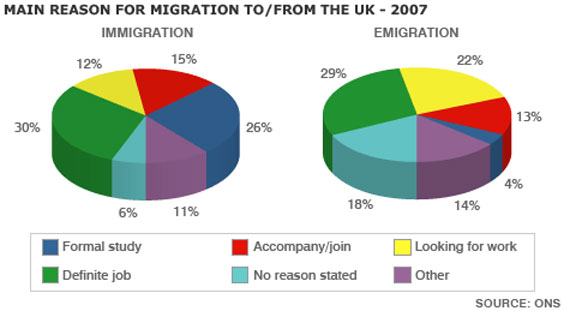 The pie chart depicts the dominant causes for migration to and from the UK in 2007.
Overall, it can be seen that landing a definite job was the primary reason why people left the UK and non native folks moved to the UK.
Approximately a third (30%) of people established a top priority to exotic countries when it came for a specific job, whereas the figure for emigration was almost close to immigration at 29%. Interestingly, it (job) constituted the highest total of all other five purposes. Next, while looking for work resulted to 12% of people leaving the UK, there was as twice as many people (24%) entering the UK. About a quarter (26%) of people chose foreign nations for formal study, which was considerably higher than emigration at 4%.
Even though 'no reason stated', was the least net (6%) as regards immigration, emigration was three folds greater than immigration at 18%. Turning to 'other' the difference in the proportion was a little at 11% (immigration) and 14% (emigration). Likewise, 'accompany' began at 15% ( immigration) and 13% (emigration) respectively.