Essay topics: The bar chart below shows the estimated percentage of car trips taken by drivers in 2005.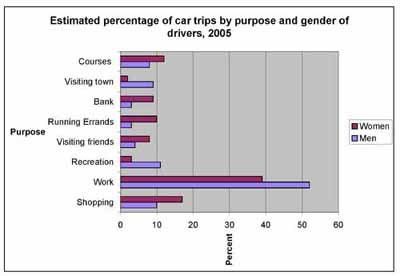 The given bar chart illustrates the estimated proportion of car trips taken by drivers in 2005.
Overall, it can be seen that running cars for work was the most popular among both genders. It is interesting to note that while the majority of men drove cars for recreation, women run cars for shopping.
As regards work, men constituted just over 50%, far higher than females at 39%. Next, with respect to shopping, men were no where near as close to women with 10% for the former and about 18% for the later. Third on the list were courses with females standing at about 14%, nearly two times more than the men at around 7%. Recreation headed the subsequent list, with males surpassing considerably the females at 12% vs 3% respectively.
In contrast, travelling by cars for other purposes remained below 10% for the two sexes. Running Errands, Visiting friends and going to banks stood at around 8% for women, whereas males represented exactly half at 4%. Regarding the visiting town, almost 10% of men went by car, however, only 2% of women drove cars, the lowest figure, compared to the remaining ones.

This essay topic by other users: