Essay topics: The charts below show how the percentage of their food budget the average family spent on restaurant meals in different years. The graph shows the number of meals eaten in fast food restaurant and sit-down restaurant.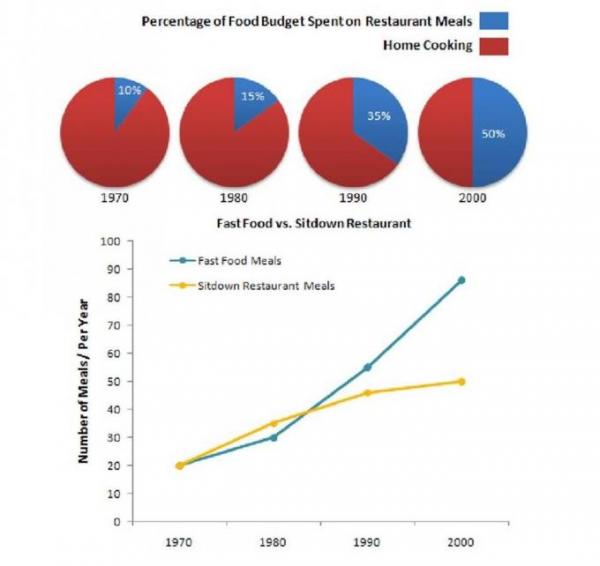 The four charts and the graph give information about meal consumption of the average family over 40 years split into ten-year periods, with a further classification by type of restaurant.
According to the data given by the four charts and the graph, it can be clearly seen that fast food and sit-down restaurant recorded an escalating number of meals while the home cooking has dramatically decreased in reputation amongst people.
Having an analysis by the level of percentage, in 1970 only 10% of money spent on restaurant meals brings a profit of 20 meals per year to both restaurants. Ten years later, there is a decrease of 5% in the home cooking budget which represents an addition of 10 and 15 meals per year to the sit-down restaurant, respectively fast food. In 1990, the money paid for out-going food has increased rapidly to 35%. Meanwhile, the sit-down restaurant recorded 45 meals per year, less than fast food with 10 meals per year. In 2000, the food budget is spent half on home and half on restaurant meals. The fast food recorded the highest number of meals per year (85), twice than the sit-down restaurant (50).